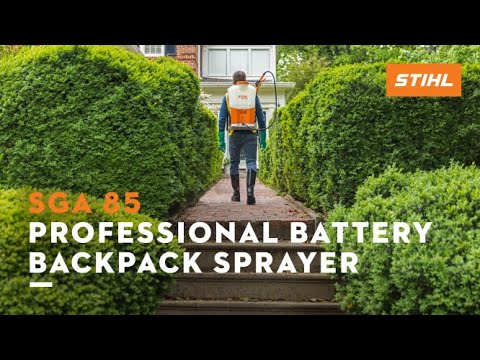 Built with the needs of the professional user in mind, the SGA 85 sprayer is the first battery-powered sprayer in the STIHL lineup. Featuring strong Viton? seals for durability and reliability, an easy-to-use diaphragm-style pump, and a leak-resistant design, pros can count on the robust construction of the SGA 85 for the long haul. This sprayer provides a high working pressure in a range anywhere from 14.5 to 87 psi, easily controlled by a variable working pressure trigger. With a variety of additional nozzle accessories*, there's an option to suit the specific needs of professionals across a variety of applications. When using the AP 100 battery, the SGA 85 boasts 8.5 hours of run time on a single charge. And with an ergonomic carrying system, padded straps and chest strap, users can operate comfortably throughout a full day of work. *Available as spare parts
---
POWER SOURCE

Battery

WEIGHT

15.5

CONTAINER CAPACITY

4.5

WORKING PRESSURE

14.5
---
---
Features
Tank filter

The filter at the bottom of the tank helps protect the spray pump from debris, providing uninterrupted operation.

Quiet Operation

Ideal for noise-sensitive areas.

Diaphragm-style pump

The diaphragm-style pump is designed to provide durability.

Adjustable Support Harness

STIHL backpack blowers and sprayers are equipped with an adjustable support harness that distributes weight evenly across the shoulders and back, reducing user fatigue.

Easy-to-use tank

Large tank opening for easier filling

Viton? seals

Viton? seals are designed to provide durability and leak protection.

Variable working pressure

With a side-access variable working pressure gauge, the operators of the SGA 85 can adjust pressure without having to take off the unit.

Sealed battery cover

The sealed battery cover is designed to protect from accidental spills or debris.

Leak-resistant design

The durable, leak-resistant design helps protect operators from leaks of potentially harsh chemicals.

Ergonomic carrying system

With an ergonomic carrying system and chest strap, the SGA 85 is comfortable to use for long periods of time and helps reduce operator fatigue.

Ergonomic Design

The construction is designed to provide users maximum comfort and control.
Specifications
| | |
| --- | --- |
| POWER SOURCE | Battery |
| WEIGHT | 15.5 lbs. |
| CONTAINER CAPACITY | 4.5 gal. |
| WORKING PRESSURE | 14.5 psi |
Note: Working Pressure ranges 14.5-87 psi Weight displayed does not include liquid.
Warnings and Safety
WARNING!
Improper use of any power tool may cause serious or fatal injury. Read, understand and follow carefully the operating and safety instructions in your instruction manual before using such products.
STIHL products sold through U.S. STIHL Dealers are for distribution in the United States only.
SERVICE AND TIPS
Operating Instructions
The operating instructions for your STIHL product are available right here 24/7. Please review your instructions carefully and often.
Get Operating Instructions
FAQ
Have a question? We have the answer you need. Browse our most frequently-asked questions and get information right here.
Get Answers In The FAQ
Guides And Projects
Discover projects with step-by-step instructions, find advice and tips related to your product and check out helpful how-tos.
View Guides And Projects
Reviews